It's an inspiring story of a young couple dedicated to giving boys the experiences and beliefs they need to create future successful lives. It's also the remarkable story of one man's triumph as he went from orphan to executive, from being alone to creating an extended family of grateful graduates of what we now call his Flying Eagle Formula. It's the story of how he took what he knew of what a boy needs to succeed and created a deeply meaningful program to deliver it.
And it worked. Over 27 summers Alex and Tess Canja shepherded over 3,000 young boys through 7 jam-packed, crazy, hilarious, and just plain fun weeks of summer camp on the shores of Crooked Lake in Northern Michigan and, in the process, helped to give them unshakable confidence and a success mindset. The boys grew up to become happy, well-rounded men who are now responsible husbands, engaged fathers, successful businessmen, dedicated teachers, and contributing members and leaders of their communities. And we can happily say that they credit what they learned during those summers as a cornerstone of their later success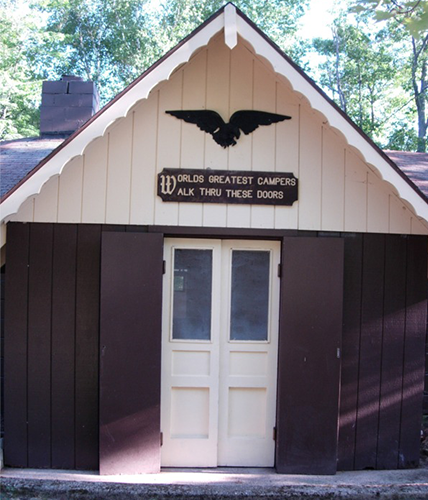 Raising a Boy
?

3 Easy Ways To Give Him a Success Mindset.
-Mitch Brown
I have so many great memories of CFE...memories that shaped the values of who I became. Among my favorite memories: Being woken up on a stormy night thinking it was a tornado
Read More
-Hector Suarez
The best days of my life were at CFE.I remember how sad I spent my first summer after Camp Flying Eagle was closed. This feeling knocks on my door every summer. In 2001 I was able
Read More
-Jim Korroch
From the age of six, I have so many fond memories of spending 11 consecutive summers at CFE. From pink-bellies at morning cals, to PB&Js at night. From bus trips to Mackinac to canoe trips down
Read More
-Merrill Falk
Alex talked to me over the phone one evening and hired me. A week later I pulled into the parking lot at camp. I will always remember the first thing Alex said to me when we met. In a boisterous voice,
Read More
Are you a boy's biggest confidence killer?
You don't have to be. You can give a boy the foundation he needs for a happy, confident and purpose-filled life, and give yourself the peace of mind that comes from knowing you have given him the confidence to try, the courage to excel, the compassion to be charitable, and the strength to withstand life's most difficult social and emotional challenges. How ? By understanding how to help him develop a success mindset.
What is a boy's success mindset ? It is the rock solid belief he holds that people like and respect him, that he can be responsible for himself, that he can bring happiness to others, and that he can succeed at whatever he puts his mind to. It's the greatest gift we can give a boy (and ourselves).
What a boy believes about himself is the most powerful force determining his present and future happiness, his confidence, and his willingness to try new things and pursue his dreams. It's the single most important factor that creates a joy-filled life.
Based on expertise spanning generations and over 60 years of results from work with over 3,000 boys, The Flying Eagle Formula shows how to develop these beliefs whether you are a parent, a teacher, a coach or anyone raising or mentoring boys.